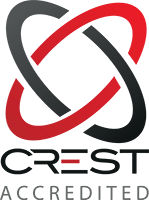 4ARMED are pleased to announce that our two day application security testing training course "App Sec Hacker" (ASH) has been accredited by CREST as aligning with the CREST Certified Tester (CCT App) examination syllabus.
For over a year we've been delivering this course internally to UK and international penetration testing teams at their offices to help develop their application penetration testing skills and help some members of their teams prepare for their CCT.
Training is a big part of what we do at 4ARMED, after all, as our name suggests, prior knowledge provides an advantage. It was a natural progression to go for accreditation and open this course to a wider market.
We will now be offering regular training hosted in the fantastic Etc Venues in London on roughly a quarterly basis. The next twelve months' worth of dates are up on our website now and you can book online through Eventbrite.
More information on the course can be found at https://www.4armed.com/educate/app-sec-hacker. CREST's description of the course is at http://www.crest-approved.org/4armed-training/index.html.
To celebrate this nice little milestone we're offering the first ten registrations for our November dates a 10% discount if you use the code CRESTLAUNCH2016 when you checkout on Eventbrite.
We have plans to offer courses in a wider range of locations in the future but if you can't make it to London, just get in touch with us to ask about delivery at your office.